Teams
Find your place and delight our end users
Our software and technology teams at Milwaukee Tool are backbone of the solutions that we deliver to our end users and distributors. Whether it's embedded software and machine learning like One-Key and Auto-Stop in our world-class Power Tools, the data engineering that helps our Accessories team lead industry trends in saw blades, or the infrastructure and automation that supports Factory 4.0 for operations, the teams below play a leading role.
Chad drives end-user excellence with embedded analytics
We are relentless on building a culture that is focused on driving dedication to disruptive innovation, that takes unparalleled pride in our work and brand, and always does what's best for the pros who depend upon our products to make a living.
Featured Jobs
Find your team and develop the future of end-user solutions technology
Brooke leads on technology decisions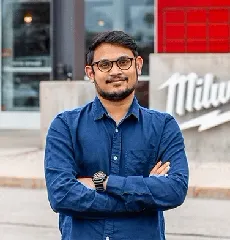 I feel very positive and motivated after my internship. It boosted my confidence as I was able to apply all the technical knowledge I gained during my education into projects used by people.
Project and Product Management